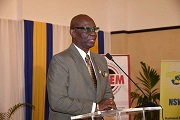 Local Government Officials Exploring Strategies To Enhance Operations
MONTEGO BAY, July 18 (JIS): Minister of Local Government and Community Development, Honourable Desmond McKenzie, says the staging of the inaugural conference on local governance provides the opportunity to explore strategies aimed at enhancing operations.
He noted that with the local authorities being responsible for 75 per cent of the services provided to the public, it is important to review and examine measures to improve the direction of local governance.
"The Ministry is responsible for roads, minor water supply, garbage collection, street light, cemeteries, public recreation, markets, butcher licence, infirmaries, community development… you name it.
"All these services that the entire country needs require the input of local government, so we must have conferences of this nature to revisit and improve on how we approach matters," he said while addressing the event being held at the Jewel Grande Montego Bay Resort in St. James.
Among the critical areas being addressed at the three-day event, which got under way on July 17, is the enhanced training and sensitisation of staff about their roles and responsibilities. "This should improve the question of accountability to prevent deficiencies in the system," Minister McKenzie pointed out.
He welcomed the involvement of municipal members from other regions and noted that their participation in the conference signals the value of partnerships in strengthening and improving operations in Jamaica.
For her part, Acting Permanent Secretary in the Ministry, Marsha Henry Martin, shared that the conference is an important milestone for local governance in Jamaica and the wider Caribbean.
"At the end of this, we anticipate that the local government practitioners will be rejuvenated and recognise the requirement to be more accountable and responsive to the people," she said.
"A barber in his shop or hairdresser, the butcher, the developer and even the homeowner who desires to get an approved plan, persons who require welfare of cemetery services must engage the local authorities, and we want everyone to benefit from the highest quality of service from local practitioners," Mrs. Henry Martin pointed out.
She said that space has been created for interface and dialogue about these and other matters that are in support of the national growth thrust.