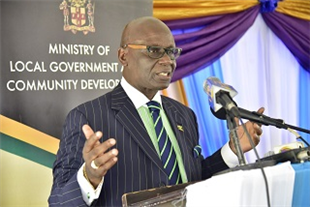 Ministry partners with UNDP -Early Warning System to be implemented in four parishes
KINGSTON, Jamaica: The Ministry of Local Government and Community Development is partnering with the United Nations Development Programme (UNDP) to implement early warning systems in four parishes in an effort to improve disaster-resilience in the country.
The project, which will cost US$1 million (approximately J$129m), will commence in 2019 in the parishes of St. Catherine, St. Mary, St. Thomas and Portland.
"We are the third country outside of Cuba and the Dominica Republic that will benefit from this programme with the UNDP where they will help us create a National Climate Information and Early Warning Service for Disaster Risk Reduction," explained Portfolio Minister, Honourable Desmond McKenzie, during the launch of the 2018 National Hurricane Preparedness Campaign.
"This project will be a shining example of how we can, through hard work, ingenuity and partnership, create lasting resilience to disasters."
Early warning systems are used to relay timely and relevant information to people especially in vulnerable areas prior to a disaster.
The UNDP is the United Nations' lead development agency and works to connect countries to a network of global knowledge, experience and technical and financial resources. According to its website, the UNDP empowers lives and supports nations to become resilient to crises and disasters.
Meanwhile, Minister McKenzie says that work is being undertaken to reduce the exposure to flooding and other consequences of hurricanes in the parishes Clarendon and St. Ann.
The farming community of Douglas Castle in St. Ann is a vulnerable area where residents are often marooned whenever storm conditions occur.
"We have decided to construct a box culvert which will effectively channel away storm water as well as raising a section of the Douglas castle main road by approximately 15 metres. I'm told by the technical people that once we do this, it will help to preserve crops and livestock and keep the community physically connected to the rest of the country," the Minister stated.
"A strategic approach to the threat pf hurricanes also involves ensuring maximum speed and efficiency in the response to this form of disaster.
To this end, $10 million will be spent to construct two storage facilities and retrofit four emergency shelters in Northern Clarendon. The storage facilities will be sited at the Frankfield Police Station and the Kellits Primary School, respectively.
The Minister added that "these will ensure that disaster relief supplies are readily available at all time to over 50,000 people living in more than 15 communities in Northern Clarendon".
Four emergency shelters will also be retrofitted to increase capacity and provide greater comfort for its users. They are Portland Cottage Primary; Alley/Race Course; Scotts Pass and Staceyville Primary Schools.