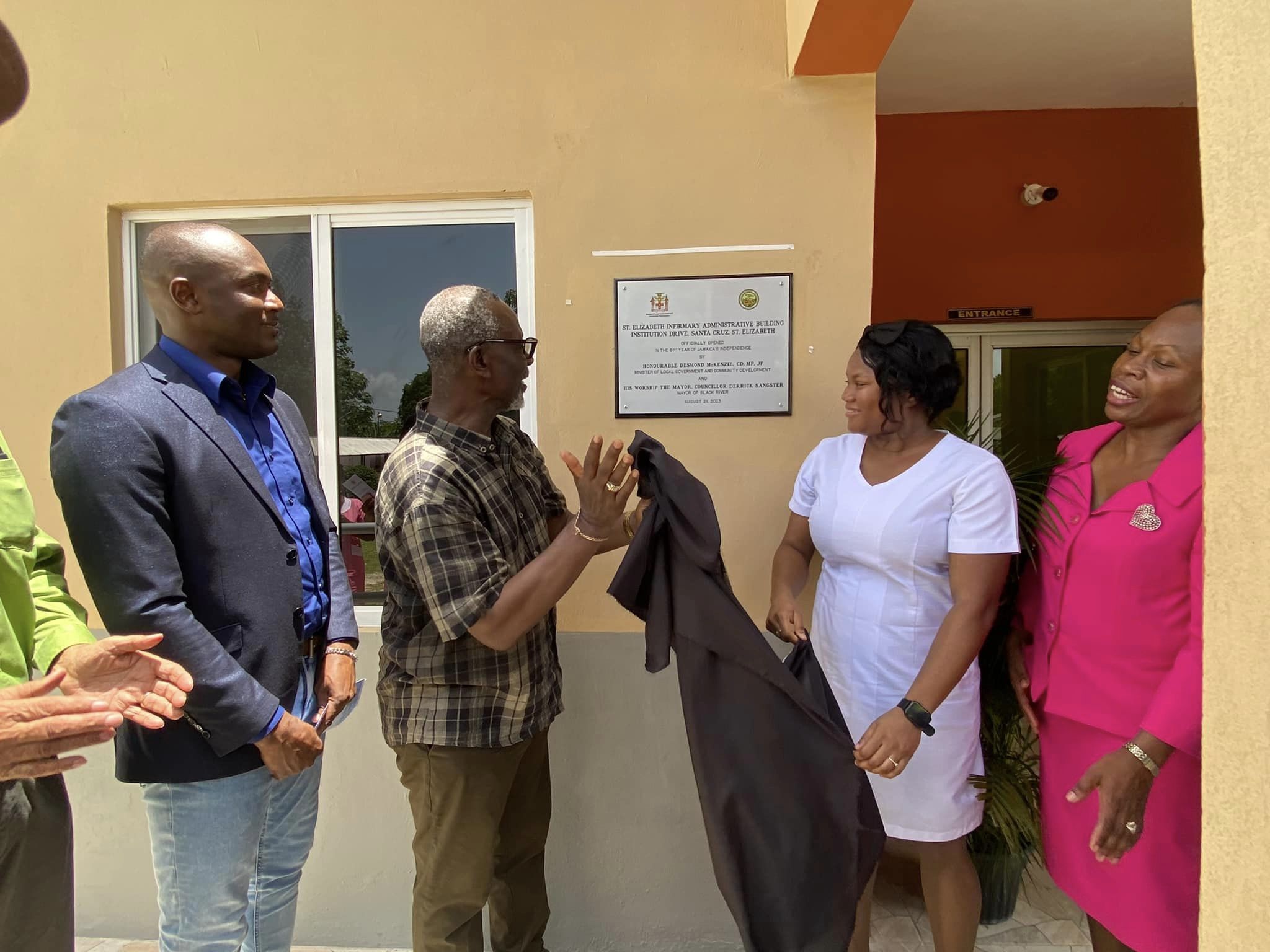 New admin block opened at St. Elizabeth Infirmary
A new administrative building built at a cost of $20 million in partnership with the National Housing Trust (NHT) was opened at the St. Elizabeth Infirmary in Santa Cruz.
"I can see the smile on the faces of those of you who would occupy the building. I urge you to continue to be as efficient as you have been, and never lose sight of your contribution to the growth and development of Jamaica," said Minister of Local Government and Community Development, Honourable Desmond McKenzie, during official opening ceremony on August 21.
The new administrative building boasts several staff offices, a conference room, customer service area and storerooms. Additionally, handrails, metal grills, closed circuit television (CCTV) cameras and air conditioning units have been installed.
A new walkway and pavement leading to the facility were also erected and extensive landscaping works undertaken – making the space highly-functional and visually-appealing.
The Minister commended the Infirmary staff and the St. Elizabeth Municipal Corporation for upholding the principles of decency and dignity in providing care for those who are under the protection of the State.
"This Government will never renege on its commitment in caring for those people (residents), regardless of the circumstances," he said.
"We are presently reviewing our infirmaries to look at the ones that will be able to facilitate more social cases. We have done that already in about six parishes, and we are looking to further that engagement with the Ministry of Health and Wellness."
The St. Elizabeth Infirmary adds to other projects completed in Manchester, St. James, Portland and Westmoreland under the partnership with the NHT.
New Matron at the St. Elizabeth Infirmary, Miss Bianca Mitchell, spoke of the appreciation of the staff and residents for the new infrastructure.
According to her, the new administrative building will provide a more comfortable environment and improved workspaces for staff to continue delivering the highest standard of assistance and support.
"A heartfelt word of appreciation goes out to my dedicated staff at the St. Elizabeth Infirmary. You work tirelessly behind the scenes for long hours. Your hard work, determination and attention to detail have ensured the smooth execution of this event. We look forward to future opportunities together to make a difference."