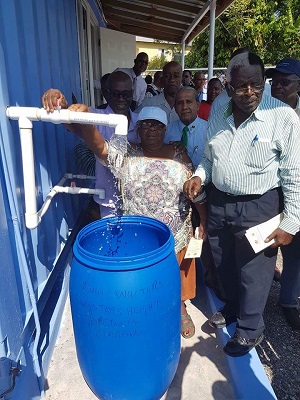 Pennants water shop officially open
PENNANTS, CLARENDON:Jamaica's first water shop prototype is officially open in Pennants, Clarendon.
The project – undertaken by the Ministry of Local Government and Community Development at a cost of $8.7 million – will make potable water more accessible to more than 1,000 residents in and around Pennants.
"What we're doing today is starting a process which will eliminate the degrading experience that some residents in communities across the island face," said portfolio Minister, the Honourable Desmond McKenzie during the handover ceremony on November 16, 2017.
He underscored that residents have a critical role to play in the success of the pilot.
"If we are to replicate it across the country, which we intend to do, then this pilot project has to be successful. Therefore, community members have to buy into the project and own the project as their personal responsibility," he said.
The water shop prototype comprise the construction of a fenced complex to accommodate eight 1,000-gallon water tanks. A retrofitted 20ft. container will house an office that will be managed by the Clarendon Municipal Corporation.
There are high commendations for community member Mr. Selvin Morgan who donated the lands to accommodate the water shop.
The roadway leading to the facility was also rehabilitated to make it easier for water trucks to deliver the commodity to the community.
According to Minister McKenzie, the water shop will provide an innovative method of supplying potable water while promoting self-sustainability and independence amongst residents.
The project is the collaborative effort of the Ministry, the Clarendon Municipal Corporation and Rural Water Supply Limited.
The concept will be introduced across the island as a means of improving the availability of potable water in communities that experience scarcity especially during dry spells.
The tanks will be refilled regularly to ensure a constant supply of water. No fee has been attached to this service for residents in Pennants.