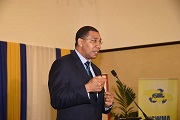 PM to examine building approvals process
KINGSTON, July 17 (JIS): Prime Minister, the Most Honourable Andrew Holness, says he will be examining the procedure for the granting of building approvals by the local government authorities in order to speed up the process.
He argued that "territorial behaviour" by the municipal bodies in the issuance of such permits often results in delays, negatively impacting the country's building approval rating and hindering national growth targets.
"Jamaica is ranked 70, which is second in the region, in the World Bank 'Ease of Doing Business' report. However, with respect to construction permits, which deals with building approvals, the country stands at 98 globally out of 190 countries," the Prime Minister lamented.
"I am absolutely committed to the process of getting government efficient. So, I am taking this opportunity to raise my concerns to the local government institutions that we cannot allow internal territorial behaviour to slow up national [progress]," he said.
The Prime Minister was addressing mayors, councillors and administrators at the opening ceremony of the Ministry of Local Government and Community Development's Local Governance Conference in Montego Bay, St. James, on Tuesday, July 17, 2018.
He urged the officers to make use of the Application Management and Data Automation (AMANDA) system, which is designed to track and manage development applications, in order to speed up the delivery of building permits and approvals.
"I hope that at this conference, when you're discussing responsiveness and accountability… the AMANDA system is on the top of your list. We have spent a lot of money equipping your offices with the relevant tools to yield the results. I'm hoping that you have been training your staff to use it. We can't spend all this money to put in place a system, to use a technology-generated support system and then don't use it," the Prime Minister pointed out.
The three-day local governance conference- which concludes on Thursday, July 19 – is being held under the theme 'Strengthening Responsiveness and Accountability within the Local Governance Framework'.