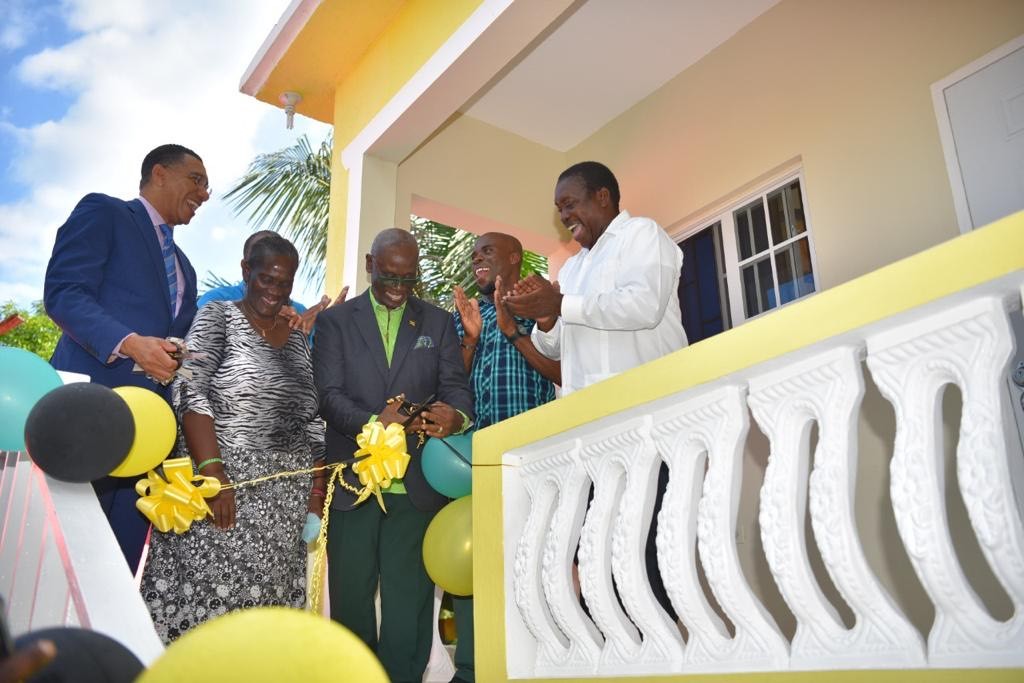 Port Maria family gets new home -Solution built under the Ministry of Local Government's Indigent Housing Programme
PORT MARIA, St. Mary: A family from Crane Park in Port maria is the latest beneficiary of a J$9 million indigent housing solution from the Ministry of Local Government and Rural Development.
The family's matriarch Norma 'Peaches' Folkes accepted the keys to her new two-bedroom concrete dwelling from Prime Minister Andrew Holness during a ceremony at Crane Park in Port Maria on January 13.
"Your house is quite dignified," the Prime Minister Holness said of the quality design and features.
"I hold the view and continue to hold that not because someone is poor that they should get poor housing. I believe that shelter, along with education, are the critical elements of poverty response."
Miss Folkes and her family's living situation was compromised by severe flooding in 2021. Built to prevent flooding, the new house is made of reinforced concrete with a tropical design and sloped roof for water harvesting. It was outfitted with beds, dressers, a stove, dining table and chairs, and washtub.
Portfolio Minister, Honourable Desmond McKenzie recalled that he learnt of Ms. Folkes' plight during a visit to St. Mary following the 2021 flood rains that severely impacted the parish.
"The house that Peaches and her family occupied was totally flooded out and the cry was that Peaches needs help," the Minister shared.
He said he gave instructions for the Municipal Corporation and the Ministry's Technical Director to move with swiftness to assist the family.
The Indigent Housing Programme is designed to specifically address the challenges of substandard housing by providing more effective ways to respond to the needs of citizens for decent shelter. Applicants for the programme are screened through the Poor Relief Department in each municipality.
Additionally, the applicant must provide proof of ownership of the land on which the shelter solution is to be constructed or of being legally entitled to build on such land.
The Prime Minister also emphasized that the Government is taking steps to ensure that those in dire need are provided with houses.
"There are two programmes of the Government to treat with issues of social housing. One programme is the New Social Housing Programme, [under] which you see me, almost every week, presenting to beneficiaries new housing solutions constructed for them," he explained.
"…Then there is the Indigent Housing Programme, which is part of the responsibility of the Ministry of Local Government to assist persons who have been established as poor and who have had some form of disaster, or impacted by some event, in their life – such as, for example, a flooding or a fire, or a landslide, or the collapse of their house – and they are not in a position to recover or respond positively to those kinds of disaster events," he added.
Holness said that the Local Government Ministry is aiming to assist some 100 cases annually.