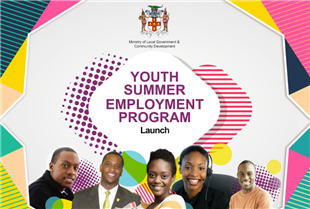 Prime Minister to Launch National Youth Summer Employment Program
Prime Minister Andrew Holness will officially launch the National Youth Summer Employment Programme on Thursday August 10, 2017 at the Jamaica College Auditorium. The programme is spearheaded by the Ministry of Local Government and Community Development and will be implemented through the Municipal Corporations/Municipality which will see to its effective running. This initiative is specially designed to meet one the Government's key priority, which is to facilitate the empowerment of Jamaican Youths by creating opportunities for them through employment.
Over Two Thousand Three Hundred (2300) Young people from various communities across Jamaica will be employed by the program. They will undertake a number of functions which will include the auditing of Street Lights and identifying vulnerable persons within communities who may require assistance during periods of natural disasters and other forms of emergency.
The Minister of Local Government and Community Development, the Hon. Desmond McKenzie is very optimistic about the program and the results it will yield. 'At the end of this programme both the participants and the Municipal Corporations are expected to reap tremendous benefits. These young people would have further developed their Knowledge base and skill set and the Municipal Corporations will have improved records on street lights and vulnerable persons' said Minister McKenzie.