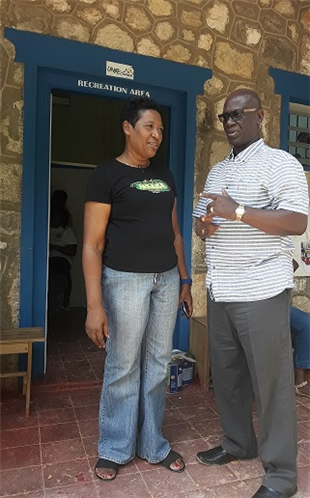 Road to be renamed in honour of Davina Bennett
KINGSTON, JAMAICA:
The Clarendon Municipal Corporation has passed a resolution to rename a roadway in Mitchell Town in honour of Miss Jamaica Universe 2017, Davina Bennett.
The motion to rename Middle Street as Davina Bennett Street was moved by Mayor of May Pen, Councillor Winston Maragh and seconded by Minority Leader Scean Barnswell during the regular monthly meeting of the Municipal Corporation today (December 14, 2017).
Miss Bennett copped third place at the Miss Universe Beauty Pageant in Las Vegas, United States last month.
The decision to rename the thoroughfare was recommended by Minister of Local Government and Community Development, Honourable Desmond McKenzie, on Tuesday evening during the Municipal Tree Lighting Ceremony where Miss Bennett was presented with The Key to the Town of May Pen.
"I believe that her outstanding achievement at the recent competition is one of the best Christmas presents that we could ask for as a country. I am going to ask Mayor (Maragh) and Scean (Barnswell) to take a non-partisan approach and move the resolution at the next sitting of Council to have Middle Street renamed in honour of Davina," said Minister McKenzie.
"I am also giving my commitment that once this is done, we will provide the necessary resources so that the road can live up to the standard that is befitting of our beauty queen."
The 21-year-old Marketing student rose in popularity during the international pageant for wearing an Afro. She gained a huge social media following for her natural attractiveness and was lauded for what many describe as shattering the beauty stereotype on the global stage.
Miss Bennett, who is also a past student of Clarendon College, said she was humbled by the recognition by her home parish.
"A road named after me?" she asked coyly after Minister McKenzie's pronouncement.
Added Miss Bennett: "I can truly assure you that this means a great deal and this is a moment that I will treasure…I will continue to champion the town of May Pen and the entire Clarendon so don't hesitate to call on me".